- Ourika Valley-Marrakech:
After Breakfast at your accommodation we will have an exploration Journey to the beautiful Ourika valley which is nestled on the main road in Ait Ourir.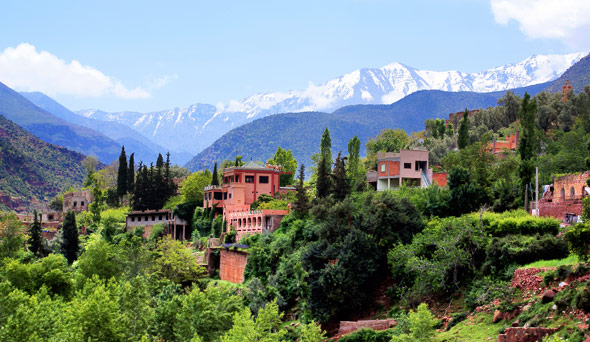 The Ourika valley is a beautiful,charming, hospitable and peaceful Berber village where we can take a short hike in the cool mountain air. We will encounter isolated villages clinging to hillsides with plots of cultivated land lying along the river valley. Lunch in the valley, then return to Marrakesh. Overnight will be in your accommodation.



- Marrakech Tizi Ntchka pass Dades Valley:
After your breakfast in your riad, you will depart for Ouarzazat through the famous Tizi Ntichka pass (2260m), over the High Atlas Mountains, snow on its peaks most of the year, appreciate the beauty of the landscape on the twisted road through the Berber villages.
We'll get to Ait Ben Haddou village, where stands the famous kasbah , built by the last Berber chieftain El Glaoui Ethami, late 19th century.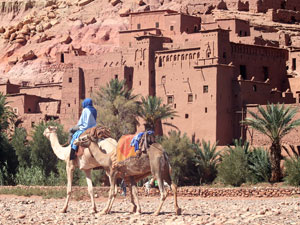 The Kasbah is recognised as a UNESCO matrimonial historical site, now a house of many Glaoui family members. Lunch by the Kasbah of Ait Ben Haddou and continue to Ouarzazat, "the Hollywood of Africa", where you have the option to visit and see many props used in movies you may already have seen such asGladiator, andAlexander the Great". Then will drive back to Marrakech where the Tour ends at your accommodation.